Today - Saturday 16th Dec 2017
Marc Dillon as Robbie Williams @ Genting Club Stoke, Hanley
Marc's amazing voice & energy is on show for all to see, with all the Robbie songs, sung in the same key as Great Man Robbie Williams (very rare for a Robbie tribute). Marc's incredible personality & cheeky humour are so like the superstar that is Mr Williams, that it has made him one of the UK's best tributes to Robbie Williams
Wednesday 20th Dec 2017
Keri Arrindell appeared on The X Factor Talent show & was successful in getting through to the Judges house with Cheryl Cole. From Soul & Motown through to Swing & Jazz.

Thursday 21st Dec 2017
International Tribute Singer Natalie Knight returns to Genting Casino Stoke. Her blistering performances have proved that she is one of the world's best tribute singers.
Friday 22nd Dec 2017
The King of Rock and Roll stars at Genting Stoke. Mark Clay performs Elvis hits from throughout the years. A popular tribute and one for all Elvis fans to enjoy
Saturday 23rd Dec 2017
RED SPEKTOR @ The Freebird, Newcastle under Lyme
RISING STONER STARS RED SPEKTOR & SUPPORT - - SPEKTOR CONTINUE TO HONE THERE GROOVE LADEN SHOW, DEFINITELY AN ACT TO KEEP YOUR EYE ON.
---
Three fantastic vocalists hand picked to create a quality harmony filled show with fantastic choreography and stunning costumes that will capture audiences of all ages! Covering music throughout the ages from the 1950's till the modern day this show is guaranteed to fill the dance floor!
---
Sunday 31st Dec 2017
The Arrindell Sisters "Spirit of Soul and MoTown" is a tribute to the classics that are still played around the world. even 60 years after they were first released. Singing songs from the generation of rhythm, beat and natural sounds. the girls together are an authentic combination, but also add something fresh to the scene. With soulful vocals that work well with the tracks and dance moves all perfectly in time, the sisters are fun, sassy and elegant in this MoTown extravaganza, with some Disco. Funk and Jazz added for good measure!
Saturday 13th Jan 2018
Saturday 27th Jan 2018
Sunday 28th Jan 2018
Saturday 3rd Feb 2018
Friday 9th Feb 2018
Saturday 10th Feb 2018
When Bob Richards and George Jones left MAN in 2008 they decided they would continue to play the bands music, with George Jones's father Micky Jones being the founding member they saw it only right that he continued the family legacy.

"One of the last things my father ever said to me was, it's up to you now to keep my music alive, I loved the music of MAN and Micky was a huge influence musically, there was no question about it really."

When Micky Jones passed on in 2010, George Jones organised a memorial concert for him and put together a group of musicians from other well known Welsh bands including Sassafras and Tigertailz.

Son of MAN play a mixture of MAN classics and original material from their debut album, released on Cherry Red/Esoteric Recordings in Winter 2016


Support from Long Strung Creatures

7.00pm

£15 advance
£17 on the door
Sunday 25th Feb 2018
Friday 30th Mar 2018
Billed as Kossoff - The Band Plays On..., Terry Slesser has put together a fine ensemble of high-calibre musicians to pay tribute to the legendary guitarist Paul Kossoff.

This is not your regular 'tribute' act, as Terry was vocalist in Kossoffs' post-Free outfit Back Street Crawler for their entire lifespan. This marks the first time since the seventies that Slesser has taken the Back Street Crawler catalogue (and some choice Free tracks) on the road.

Front-man Terry Slesser sure knows how to captivate an audience. He's got some seriously entertaining anecdotes in his armoury which are all delivered with style and panache.
Guitarist John Buckton has the Kossoff sound down to an absolute tee and that's no huge surprise when you consider that Free drummer Simon Kirke has said "If Free were to reform, John would be my first choice as guitarist."
Buckton has captured the soul and rawness of Koss' playing - Paul Kossoff had his own unique / standout style and it lives on in John Buckton's fretboard.
Also Included in the line-up is former UFO, Wild Horses, Uli Jon Roth and Pat Travers' drummer Clive Edwards.
Dave Chapman on Keyboards and Rick Hunt on bass complete the line up.

Paul Kossoff was revered by music fans and fellow musicians alike and his music shone through along with his personality ...all brought to life in a show of sheer quality which pays homage to the highly talented and much missed guitarist.

Support from Long Strung Creatures

7.00pm

£15 advance
£17 on the door

Search the site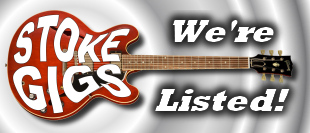 All gigs are listed in good faith and all information is correct to the best of our knowledge. Please check with the venue or artist before travelling. We can accept no responsibility for incorrect listings or amended or cancelled gigs.