Today - Friday 22nd Sep 2017
UK Björn: A tribute to Abba @ Eleven, Stoke on Trent
Doors open at 7pm for this live ABBA tribute band.
Tickets: £8 in advance or £10 on the door.
---
The Pluckers acoustic duo @ New Finney Gardens, Stoke-on-Trent
Tony n Andy make a return visit playing classics old n new.
Saturday 23rd Sep 2017
---
The number one male vocalist in the Midlands and possibly the UK. Club entertainment night for all musical tastes and genres to get those toes tapping.
Sunday 24th Sep 2017
Saturday 30th Sep 2017
Sunday 1st Oct 2017
Saturday 7th Oct 2017
Kaylie M is a Superb Vocalist Who is Rated One of the Best Performers and Tribute Artistes the UK has to offer. With these years of experience Kaylie has gained an extensive song repertoire ranging from the 1950's to the current chart hits, with songs for all occasions and different audiences.
---
Friday 20th Oct 2017
Saturday 21st Oct 2017
Scott David is an excellent guitar vocal entertainer performing songs from the 60's through to today's best known hits. A great night with this talented performer.

Search the site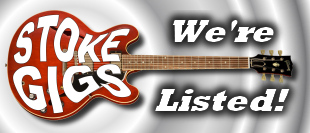 All gigs are listed in good faith and all information is correct to the best of our knowledge. Please check with the venue or artist before travelling. We can accept no responsibility for incorrect listings or amended or cancelled gigs.